■ Specifications
■ Description of YHZS50 Mobile Concrete Batching Plant
This series of mixing plant adopts the semi-pulling structure with running system and standard coupling pin included. It can be dragged by trailer. Without foundation and commissioning enables convenient transportation, the mixing plant can be divided into several standard modules, and then be packed into containers.
■ Features of YHZS50 Mobile Concrete Batching Plant
1 "double composite spiral band" host using iron-chromium alloy wear-resistant materials, its shape and surface are with high shock resistance mechanical strength, good wear-resisting property, its center is with good toughness! Proper working life is 50,000 pots, a substantial increase in product life!
2. The whole plant uses automatic control systems, Siemens PLC, Schneider Electric components, computers and printing integration, simple operation, easy to debug.
3. Pneumatic system is with Taiwan Fusheng well-known air compressor, providing sufficient air supply for the entire concrete mixing plant.
4. Weighing system adopts international famous brands, weighing accuracy and sensitivity to ensure the quality of concrete.
5. Using section structure, unit modulation, fast installation and debugging and moving is very convenient.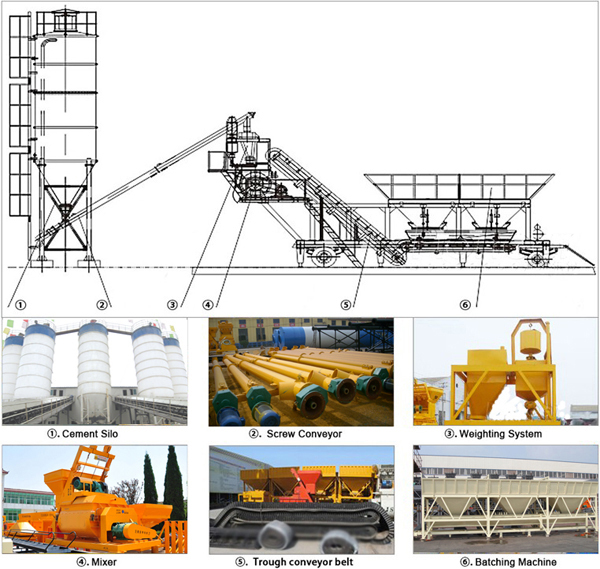 ■ Technical Data
■ Technical Data of YHZS50 Mobile Concrete Batching Plant


1. MIXING SYSTEM
Twin Shaft Concrete Mixer: JS1000
Volume: 1600 L
Capacity: 1000 L
Paddle quantity: 16 pieces
Paddle Speed: 25.5 r/min
Mixing Motor: 37kw

2. CONTROL SYSTEM:
PLC command and control operation
Main electrical components: Schneider
17colorful computer
Manuel and Auto Control is freely changeable

3. AGGREGATE SYSTEM
3.1.1Aggregate Batcher PLD1600
Volume: 4×8m3=32
Sort of aggregate: 4
Capacity: 80 m3/h
Power: 11 kw
Sand vibrator: 0.37kw×2
3.2. Aggregate Belt Conveyor 1 unit
Width:800 mm
Length: 18456mm
Speed: 1.6 m/s
Motor: 7.5 kw

4. WEIGHING SYSTEM:
4.1 Aggregate weighing 1 unit
Weighing Capacity: 1.6 m3Precision: ±2%
4.2 Cement weighing 1 unit
Weighing Capacity: 1m3
Precision: ±1%
4.3 Water Weighing 1 unit
Weighing Capacity: 150 kg
Precision: ±1%
4.4 Additive Weighing 1 unit
Weighing Capacity: 40 kg
Precision: ±1%

5. CEMENT SYSTEM
Cement Silo: 30 Ton
Cement Screw Feeder: 2 units
Diameter: Φ219mm
Length: 11.8 m

6. ADDITIVE SYSTEM
Additive silo capacity: 1 m3
Pneumatic valve: Φ50 mm
Pump: 3kw

7. WATER SYSTEM
Submersible pump: 3kw
Water pump: 0.75kw
Water tank: 3 m3

8. AIR SYSTEM Air
Compressor: 1 unit
Power: 7.5kw
Pressure: 0.7Mpa
Airflow: 0.8 m3/min