■ Specifications
■ Descriptions of HZS75 Concrete Batching Plant:
HZS series of Concrete Batching Plants is developed by our company on the basis of adopting the world's sophisticated technologies, this concrete mixing plant have been widely used in the domestic and overboard, as well as earned a perfect reputations in the construction field, we have dedicated in manufacturing concrete mixing plant for many years.
■ Features of Ready mixed concrete mixing plant:
1 "double composite spiral band" host using iron-chromium alloy wear-resistant materials, its shape and surface are with high shock resistance mechanical strength, good wear-resisting property, its center is with good toughness! Proper working life is 50,000 pots, a substantial increase in product life!
2. The whole plant uses automatic control systems, Siemens PLC, Schneider Electric components, computers and printing integration, simple operation, easy to debug.
3. Pneumatic system is with Taiwan Fusheng well-known air compressor, providing sufficient air supply for the entire concrete mixing plant.
4. Weighing system adopts international famous brands, weighing accuracy and sensitivity to ensure the quality of concrete.
5. Using section structure, unit modulation, fast installation and debugging and moving is very convenient.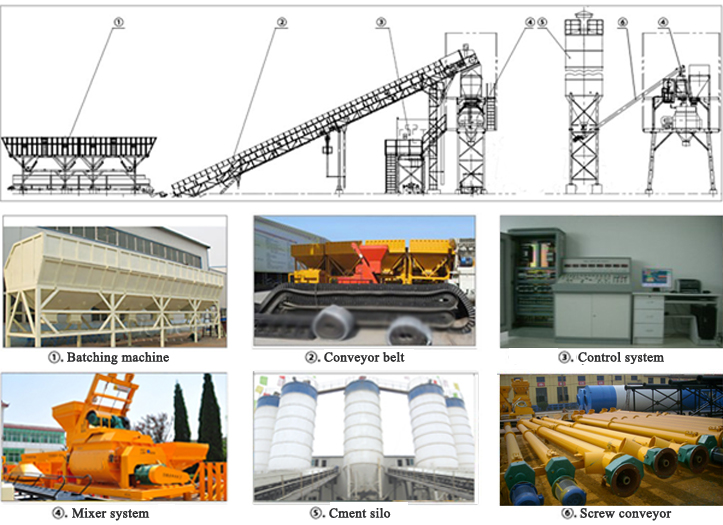 ■ Technical Data
| | |
| --- | --- |
| Model | HZS75 |
| Capacity | 75m3/h |
| Mixing system | Twin-shaft concrete mixer |
| Aggregate feeder | Bucket (Skip hopper) |
| Discharging height | 3800mm |
| After-sale service | Erection & commissioning, operator training |
| Warranty | 12 months after erection |
| | |
| Concrete mixer Model & Quantity | JS1500 Concrete Mixer, 1 unit |
| Discharging volume | 1500L |
| Charging volume | 2400L |
| Mixing cycle | 72s |
| Max. mixing size | 80/60mm |
| | |
| Aggregate batching machine Model & Quantity | PLD2400, 1 unit |
| Storage bins quantity | 3 or 4 sorts |
| Aggregate scale hopper | 2400L |
| Aggregate feeding to mixer by | Bucket (Skip hopper) |
| | |
| Weighing system Principle & Quantity | Force sensor, 1 set |
| Water weighing precision | ±1% |
| Cement weighing precision | ±1% |
| Additive weighing precision | ±1% |
| | |
| Control system Type & Quantity | Computer auto-control, 1 set |
| PLC brand | SIEMENS |
| Control panel board | Buttons, lamps, indicators, etc |
| Electric components | Relays, contactors, etc |
| Control cabin Size & Quantity | ≈6m2, 1 unit |
| Air conditioner | 1 unit |
| Printer brand | OKI/PANASONIC/EPSON |
| | |
| High-pressure air system Quantity | 1 set |
| Air compressor | 0.6MPa |
| Oil-water separator | 1 or 2 units |
| Solenoid valve | 1 or 2 sets |
| | |
| Documentation | 1 set |
| Spare Parts | 1 set |
| Concrete Foundation Projects / Design | 1 unit |
| Operation Guide | 1 unit |
| Maintenance Guide | 1 unit |
| Electrical Diagram | 1 unit |
| | |
| Cement storage and feeding system | Optional parts |
| Screw conveyor diameter | Ø 219mm/273mm |
| Cement silo capacity | 50t/100t |