■ Specifications
■ Description of HZS150 Concrete Batching Plant:

HZS series of concrete mixing plant is developed by our company on the basis of adopting the world's sophisticated technologies, this concrete mixing plant have been widely used in the domestic and overboard, as well as earned a perfect reputations in the construction field, we have dedicated in manufacturing concrete mixing plant for many years.
■ Features of HZS150 Concrete Batching Plant:

1,Driving system adopts planetary gear, the gimbals transmission shaft insures circumgyrate at the same speed.
2. With its modularization structure, it is easy to transport, install and debug more quickly.
3. Mixing system choose the spiral mixing system , which has high efficiency , scale board and mixing blades adopts high-rigidity and high tenacity wearable case alloy steel, to prolong the working life.
4. Aggregate lifting appliance adopts frequency control, thus providing smooth and reliable operation.
5. Lubrication system adopts advanced centralized oil lubricating system, convenient for oil supplying, this system is equipped with overvoltage warning and low oil level warning, safe and reliable.
6. PC+PLC control system ensures the high reliability.
7. With its virtue of precise computation, it can meet the requirement of every high performance concrete.
8. Human-based intelligent control facilitates the operation greatly.
9. Structural members are durable, and most electric elements adopt world famous brands.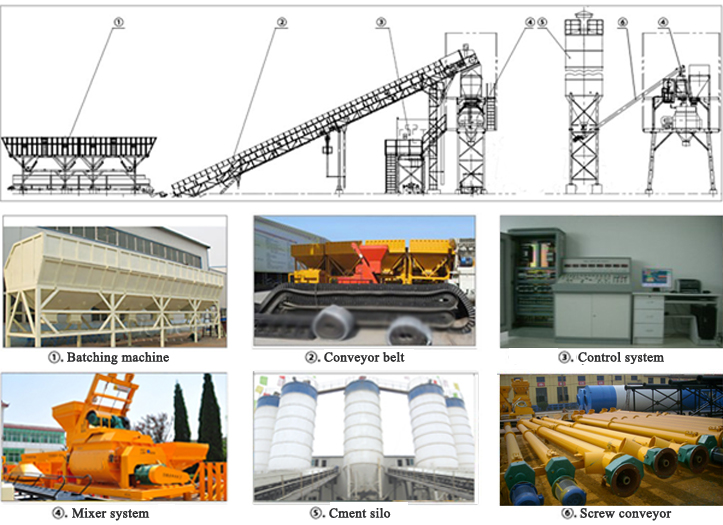 ■ Technical Data
■ Technical Data of Bona HZS150 Concrete Batching Plant:
Capacity: 150 m3/h
Mixing Time: 60S
Max Aggregate Size: 60/80 mm
Discharging Height: 4200 mm
Total Power: 228 KW
Total Weight: 100Ton
Total Dimensions: 45000×17000×20000 mm.
1. MIXING SYSTEM
Twin Shaft Concrete Mixer: JS3000
Volume: 4800L
Capacity: 3000L
Mixing Blade: 2×10 pcs
Mixing Speed: 21.85 r/min
Mixer Motor: 2×55kw
Weight: 11450kg
Dimensions: 4220×2620×1910mm
2. AGGREGATE SYSTEM
2.1 Aggregate batcher: PLD4800
Volume: 4×15m3
Capacity: 288 m3/h
Power: 15kw
Weight: 15000 kg
Dimension: 15520×3900×5059mm
2.2 Aggregate belt conveyor: 1 unit
Belt width: 1000 mm
Belt speed: 2 m/s
Power of Motor: 37 kw
3. CEMENT SYSTEM (OPTIONAL)
3.1 Cement silo: 4 units
Capacity: 100t×4=400t
Silo Diameter: Φ3000
3.2 Cement Screw Feeder: 4 units
Diameter: Φ273mm
Length: 15m
4. ADDITIVE SYSTEM (OPTIONAL)
Additive silo Capacity: 1m3
Pneumatic Valve: Φ50 mm
Pump: 2×3kw
5. WATER SYSTEM
Motor Power: 7.5 kw
Butterfly Valve: Φ150 mm
Capacity: 150m3/h
6. AIR SYSTEM
Air Compressor: 1unit
Power: 11 kw
Pressure: 1.0 Mpa
Air flew: 1.2m3/min
7. WEIGHING SYSTEM
7.1 Aggregate Weighing: 1 unit
Weighing Capacity: 5000kg
Precision: ±1%
7.2 Cement Weighing: 1 unit
Weighing Capacity: 1500kg
Precision: ±1%
7.3 Water Weighing: 1 unit
Weighing Capacity: 800 kg
Precision: ±1%
7.4 Additive Weighing: 1 unit
Weighing Capacity: 50 kg
Precision: ±1%
8. CONTROL SYSTEM
PLC command and control operation .
Main electrical components : SCHNEIDER or SIMENSE
17'' colorful computer
Manuel and Auto Control is freely changeable .